Princess Sofia The First
Call (347) 916-3277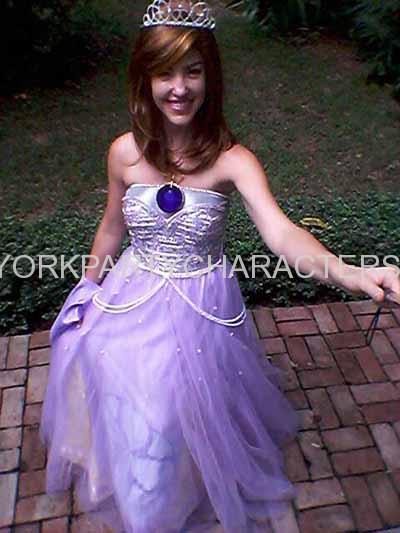 Princess Sofia The First Party Character
Sofia is a little girl with a commoner's background until her mother marries the King of Enchancia and becomes royal. Sofia eventually learns that looking like a princess is not all that hard, but behaving like one must come from within. Her heart is her most prized feature, valued by her allies, especially Fauna and Clover.
With the Sofia The First Birthday Party theme, you can create an experience that feels like your girl is walking into an episode of Sofia the First. The decorative and ambience can be inspired by the color palette and ultra-feminine tones of the show. The ultimate aim to make the party successful is by adding a sprinkle of the fabulous Sofia the First into every each and every detail.
This party is fit for any girl certainly one that any 3-year- old Disney Jr.-watching and remembering this cute little Sofia for a long time. From the gorgeous cake to the perfectly appointed table settings, this is one party that you should not miss.
The cuteness will be over-loaded when your little baby girl walks in wearing the dress like Princess Sofia's iconic purple ball gown. The gown is very soft which has shimmery fabrics, lovely sequin and swirl glitter trims, a shimmery peplum and glitter accented details throughout. This is the perfect dress worn with truly magical Royal Tiara, Shoes and Musical Light-Up Amulet.
There are various birthday ideas which are innovative and creative to add more excitement to the event. A castle cake fits perfectly with the theme which resembles Sofia's Mansion like that in the series. Hanging purple pom-poms will match so well with a Sofia the First party and look very pretty above the dessert table! A dessert table would not be complete without Sofia's dear friends Clover, Mia, and Robin as cupcakes which are anytime very impressive with only minimal amounts of skill.
It's not a princess party without crowns and wands! Make sure you have got the tiaras for your girl and also her friends if you want. The entire theme is based on light purple ambience which is the predominant color of Sofia series. This appeasing décor will keep everyone in exciting mood along with calm and peaceful environment away from the daily life hurdles. This is the time you realize the importance of a little extra efforts for your beloved kid. Make her feel like a princess on such a cheerful day of her life.This will make an unforgettable memory which the family will cherish for lifetime. For more fine tips and ideas visit us New York party characters.