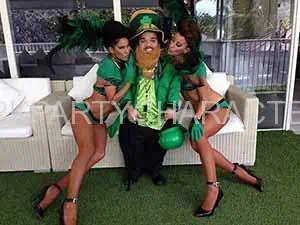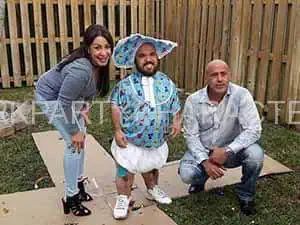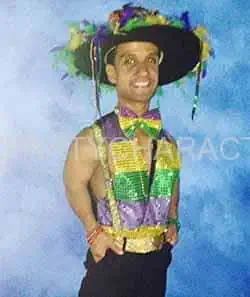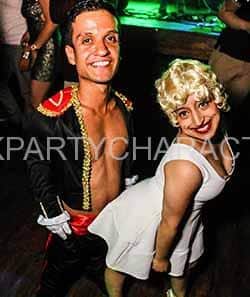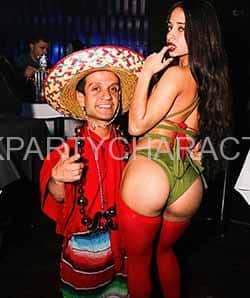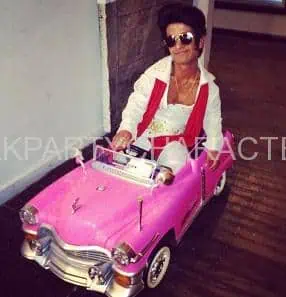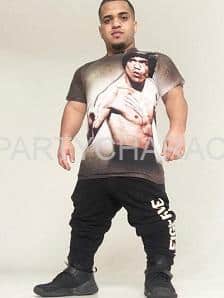 Ommpa Loompa
Game Of Thrones Tyrion Lannister
Yoda
Leprechaun
Chuckie
Stephen King's IT Clown
Scary Clown
Santa Elf
Police Man w/ Gun & Handcuffs
Security
Gender Reveal Baby Boy w/ Diaper & Bottle
Gender Reveal Baby Girl w/ Diaper & Bottle
Tuxedo w/ Top Hat
Super Mario
Pizza Man w/ Red Hat & Shirt plus Pizza Box
El Nacho Libre Wrestler
Cupid
Referee w/ Whistle
Cry Baby Mask
Gangster
Wolf
Batman
Hulk
Thor
Iron Man
Black Panther
Captain America
Joker Villain
Ultron Villain
Venom Villain
Thanos Villain
Boxer w/ Cape & Champion Belt
Boss Pimp
Little Pirate
Uncle Sam
Donald Trump Mask
Doctor
Mexican Serape
Scareface
Elvis w/ Glasses, Wig & Guitar
Aladdin
Sailor w/ Hat
Hippie
Pilgrim
Construction Worker w/ Hard Hat
Toga
Little Ninja
Ninjago
Munchkin
Army Soldier
Rock Star
Suit & Tie
Inmate Prisoner
Darth Vader
Storm Trooper
Superman
Wonder Woman
Harley Quinn
Spider Man
Cat Woman
The Flash
Aqua Man
Wolverine
Deadpool
Ted the bear
Midget For Hire
Rent A Midget in New York City
If you are planning to hold a party in New York City, you might be challenged with the way to create the ambiance of the party. No matter what the type of the event, you will want to make sure that everybody is happy when involved in the party.
For the entertainment purposes, you can't go wrong when you rent a midget in NYC. This entertainer kind has been increasing in popularity lately because it is so lovable and amusing. The midget entertainment can be a great option for parties or events like birthdays, bachelor or bachelorette party, anniversaries, holiday parties, bar mitzvah, and many more. Superbowl festivities are happening this weekend, have a little person entertain all your guests.
It is also prevalent for special holiday events like Saint Patrick's day with a Leprechaun, Christmas time with elves, Valentine Day with Cupid, Halloween with Chuckie or IT, school holiday, and so on. Have been loving Game of Thrones TV series? Why not hire a midget who can act as Tyrion Lanniester from Game of Thrones. The good thing about midget entertainment is that you will have the freedom to customize the costumes, themes, types of entertainments, etc. Hence, you can also hire midget with specific talents like musicians, singers, dancers, etc. This will give you the positive value of such great price.
When you rent a midget in NYC from the reliable and trusted agent, you can rest assured that the professionals will handle your party entertainment needs. If you are looking for the most astonishing and amusing entertainment for the party you are about to throw, consider renting a midget in NYC.
Are you holding a party for the football games of your favorite teams? You could also rent a midget in NYC to dress as your favorite team player and have a good game together.
No matter what the party that you are about to throw, you can rent a midget in NYC to increase the ambiance and the atmosphere of the party. Everybody will be amused and laughing. Not to mention that most of them are so fun so that you will want to capture the coolest moments together with them. The good thing about hiring the midget from the trusted agent is that you won't have to be burdened with the responsibility to create the entertainment ideas. If you haven't figured out yet, you could ask our customer support and our creative team will have the brilliant ideas for you.
Gone are the days when it was difficult to find the right party entertainer. Midget has become more common now. Don't hesitate to rent a midget in NYC now for your upcoming party. You won't regret it.