Princess Cinderella
Call (347) 916-3277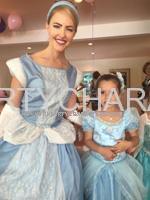 Cinderella Character Party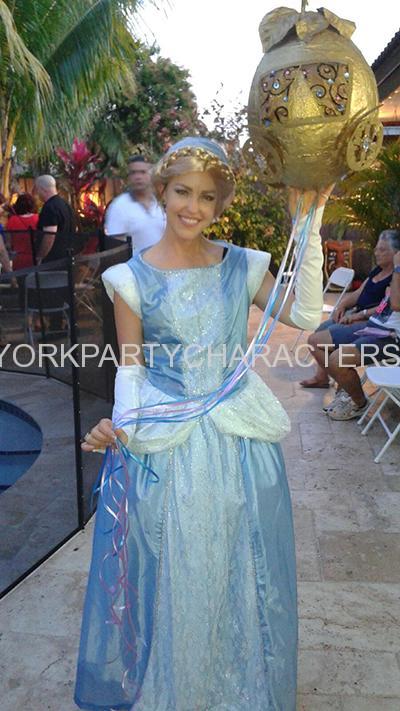 Cinderella is one of the favorite movies during childhood days! Today also little girls are enjoying Cinderella all over again on TVs and theatres. She has faith that if you keep on believing, your wish will come true. It's easy to remain hopeful when things are going well; Cinderella stays positive even when they are not. Wouldn't you like to convey this message to your little girl and the friends in an incredible way?
Turn your party into Cinderella Birthday Party theme and your loving child into a princess on this occasion. Cinderella is the most beloved of all the Disney princesses. It features a sparkling and radiant atmosphere with spellbound impact. The attractive and eye-soothing silvery-blue ball gown, the skirt filled out to swirl around as she moved, and the sweeping neckline decorated with pastel-colored butterflies. Regardless of the real castle, one can make the castle painting in the background which will create a peaceful and joyous environment. Other iconic details include a horse-drawn chariot and a clock that is about to strike Midnight. The entire set embodies the fairy-tale of Cinderella and the magical night when she met her Prince Charming. The prominent shoes cannot be forgotten which are made of delicate lace to give them a look of transparency and adorned with butterfly designs on it.
With this Cinderella princess Birthday Party theme you can give all the enchanted love to your child. There is a lot more than you can ever imagine to make the party like a Cinderella Movie. Sprinkle shimmering glitter or star confetti on window pane and tabletops, and then set out tiaras or candy jewels. Hang cut-outs of blue birds from the ceiling to represent the birds that helped Cinderella with her dress. For everybody's taste buds, make appetizer in the shape of Cinderella's horse and pumpkin-shaped carriage.Set up two or more plastic toy horses in front of the "carriage" and connect them with red licorice string.
Make homemade pretzels and cookies in the shape of stars. Sprinkle them with strawberry syrup or cinnamon and sugar. Cupcakes are something that nobody can resist. For Cinderella cupcakes, frost them in pink or blue frosting and top them with an edible glass slipper and add blue colored sugar for the final touch.
To make this event successful you do not need a Fairy Godmother. Just with a pinch of imagination and creativity and the moment to cherish will be ready for your kid. There is surely no other major delightful moment in parents' life than seeing their kids content and happy.