Princess Tiana
Call (347) 916-3277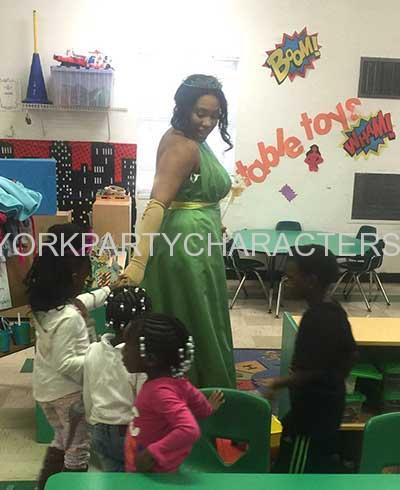 Princess Tiana Character Party
"Dipped in chocolate, bronzed in elegance, enameled with grace, toasted with beauty."
Yes, make room for Disney's first dusky princess. For those of you that don't know, Tiana is the main character of Disney's 2009 film, The Princess and the Frog. Her story is very adventurous in the place called Louisiana bayou. Tiana is a pretty progressive character. She's a hard-working young woman whose main dream is to start and manage her own business. Portraying Tiana as a hard-working,intelligent young woman who wants to break into a male-dominated profession (because almost all professional chefs were males in the 1920s) is an over-whelming, hitting back against gender and racial stereotypes.
Princess Tiana Birthday Party theme is soaring high and every little girl wants it. It captured many young hearts, and the movie's rich details make it perfectly adaptable for any birthday party. Make kiss-shaped invitations and seal the kiss with a frog sticker to hack the hearts at the party.
The dominant colour is GREEN, so you can freely use any of the natural looks if your kid loves parks,mountains and any other natural scenic beauty. Decorate the party space with green streamers to imitate the foliage of the bayou. You can use green construction paper to make lily pad-shaped placemats and place shallow bowls of water on the table with white flowers floating. Another quick idea to give your home and backyard the bayou look, hang glow sticks or candles from the ceiling or tree branches. Your child will feel like she's looking at the fireflies to Mama Odie's house, just like Tiana and Naveen did in the movie.
Your little girl will become more close to the greenery and Mother Nature after wearing the beautiful Tiana dress. The dress is completely resented in the different shades of green and little golden-yellow glitters which depict the sense of freshness. It cannot be completed with that beautiful leaf-shaped Tiara which your little girl will proudly wear which is one thing done at all princess parties in New York.
Hungry much at the party? The cake shaped like a princess' skirt with a Tiana doll in the center will make you consume it with love. Or, give each child a cupcake-sized cake that's shaped like a firefly using a special green icing on it. You can even decorate the ambience with plastic leaves or maybe real for that matter. It's so full of romance, great music and giggles. It's no wonder so many kids want it as their birthday party theme.
The Princess Tiana Birthday theme can be accomplished by small figurines of mini frog toys, Tiana rings, stickers and coloring books which the kids will enjoy to play with. Embrace the beauty of this tale and have fun in the lap of this beautiful surrounding.