Princess Elena
Call (347) 916-3277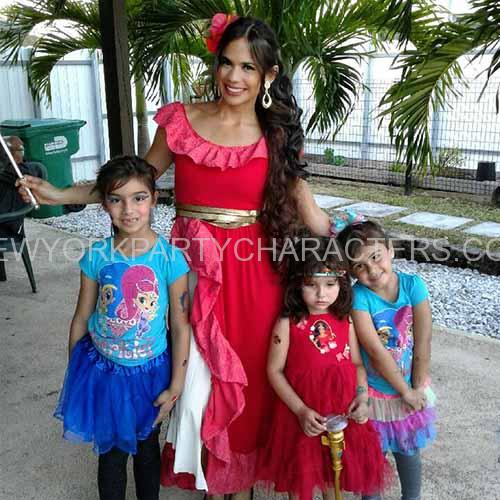 Princess Elena Character Party
Princess Elena
Does your little girl love to experience new things and is full of life? If yes, then she really deserves to have a Princess Elena Birthday Party. Elena Castillo Flores, better known as Elena of Avalor is the first Latina Disney Princess. Elena's adventures lead her to understand that her new role requires thoughtfulness, resilience and compassion, the traits of all legendary great leaders.
Give your daughter a warm-hearted magical surprise so that she enjoys it to the core and also playfully imbibes the qualities of this brave Latina Princess.
Every glorious Princess Elena Birthday Party needs decorations and treats! Elena's wardrobe will be a great source of inspiration for decor and snacks. Elena's dress is ruby red with pink hues, so you can easily decorate your party table with deep pink and gold linens to match the bright lively colors. Nothing is cuter than a mini cake with bright flowers on top for that big attraction! Just place a couple of bright colored vases and flowers to bring lots of life to the party princess interest with small orange flowers with gem centers to hot pink popcorn boxes and platters. Don't they look like the flowers in Elena's hair?
Every Princess needs gold goblets; she lives in a castle after all! Place out a few goblets for children and guests to enjoy their favorite beverage. Simple gold cupcake liners placed on the doilies (ornamental mats) are the perfect to accentuate the freshly baked or store bought cupcakes. You can add small gems to cupcakes to match Elena's scepter. Decorate your space with some golden balloons hanging from the ceilings, light up the room with beautiful lanterns covered with royal golden foil to give the surrounding a regal feel. Your house or backyard will look like a fairy-tale kingdom inspired from Latin cultures and folklore.
To clad your daughter in this Hispanic endearing beauty, the signature outfit of Elena will do its job. The dress is a long red sleeveless over-skirt stylized with matching coral gauze ruffle/flounces around the elastic neckline. On the side and bottom you can pin an attached ivory colored underskirt. Around her waist put a golden belt held in place with a golden buckle. Get brown high heeled shoes with flowery patterns. Elena's jewelry includes a pair of golden engraved earrings, a braided beaded bracelet on her wrist, and a flower hair comb clipped. To give it the perfect look, just attach an elegant ruffled flower motif red ball gown with a pink sash. Whoa! Now your daughter is ready to join the royal league.
Princess Elena's story will present children with positive messages about the importance of family and traditions, as well as leadership, resilience and diversity. So hosting a party to celebrate with the tale of Elena of Avalor is a perfect fit! The bright color scheme is just right for this occasion with beautiful mild sunny weather.