Princess Belle
Call (347) 916-3277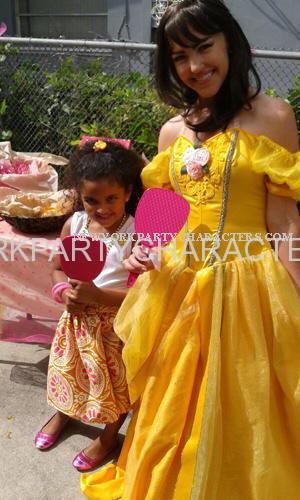 Princess Belle New York
Watch as your daughter's eyes light up just like her favorite princess Belle. A bit of the enchanted countryside, Belle's name means beauty and her abilities are based on knowledge and intelligence,instead of physical strength. She dreams of adventure in the great wide somewhere and believes there is good in everyone, even the Beast.
Disney version of Princess Belle has stood the test of time unlike any of her princess counterparts.There are many reasons why Belle has been admired and became the favorite of so many girls. It is because of all the princesses we have come to know and love, she was by far the most relatable. Belle wasn't the only Disney princess who always protected her family, but she was in fact the first. Her allegiance to her father reflected the way we all feel about our family members. When we were kids, we were almost conditioned to think that a story wasn't happy unless it ended in true love, but Belle projected the independence and passion that we all have felt at some point. She disapproved the "damsel in distress" title out of our brains at an age when we most needed to see strong characters that fought for people they loved. Getting a great princess party for kids is a important way to show your daughter a amazing birthday.
Belle was the first princess who showed us that that kind of courage could be quiet and steady and still triumph. The most amazing part of Belle was that even though she was considered "unusual," she totally embraced her personality without giving a single frown.
This is the time to get your kids on the roller-coaster of this amazing fantasy with Princess Belle Birthday Party theme. She will teach you how to be a kind yet graceful princess and the boys how to be an idol loving prince.
Your little one will step into a timeless tale in the shimmering costume inspired by Belle's ball gown in the movie Beauty and the Beast! Her most recognized, iconic, and renowned dress is her golden ball gown with embedded layered skirts, golden filigree and ruffled organza trims which accentuates the enchantment. With this outfit, make her wear some of her hair in a neat bun, the gown trails down her neck in a beautiful with flowing motion.
This dazzling brilliant yellow-themed moment will put everyone in a lively and euphoric state. To make the exotic impact without much time, ambience can be decorated with a monochromatic yellow theme. A ceiling filled with yellow balloons swaying everywhere like a royal summertime, cheese & crackers, mini quiches and macaroni & cheese bites, Sunny Lemon Cake-in- a-Jar and many more.
There are many options on the internet from where you can buy the other figurines of Princess Belle best friends like Mrs. Potts, Cogsworth, Chip and Feather duster. This dreamy and enchanting Princess Belle Party will provide countless happily-ever- after for your daughter. Relive all the magic from the classic time where children can recall their favorite fairytale moments.