Princess Anna
Call (347) 916-3277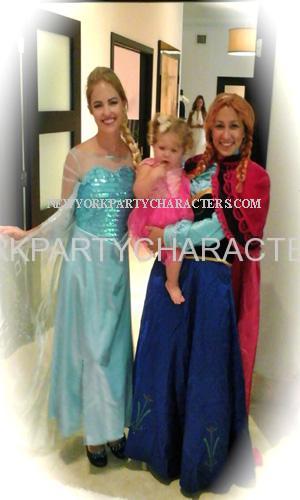 Princess Anna Character Party
Every little girl is a combination of beauty and courage. She has that sterling face which can lighten up the room and the most important thing-she is never hesitant to express her fanciful dreams. So why not make your little one as endearing as Princess Anna. Fearless optimist Anna sets off on an epic journey teaming up with rugged mountain man Kristoff and his loyal reindeer Sven. Don't let her innocence mislead you as she is no less than a warrior. She is a loving and loyal person who has always got the back of her sister, Princess Elsa. It is undoubtedly very obvious that every parent would like to dress her girl in a cape of bravery, beauty and charm. Oh yes, what is her superpower? It's LOVE which conquers fear in the end. She saves the day with love. The adage, "Beauty is being the best possible version of you with courage and kindness" is clearly manifested in Anna.
The adjectives will be out of stock describing Princess Anna who is an empowered girl with never-ending energy. That is the perfect combination any little girl would ever want. In this Princess Anna birthday party theme make your daughter a charming fearless girl who will continue to imbibe this personality within herself as a part of her life. Known for her strength and courage without the need of any superpowers. Make a birthday theme with ample of adventurous ambiance which will reveal all the fun at the kids birthday party.
The strong elements of optimism, charisma and readiness will make the event more enlightening. Who wouldn't like to be a part of it? This will be the moment with uncountable hopes and aims which will make your girl a cute dreamer with the potential of fulfilling it. The beautiful blue attire of Princess Anna with pleated gown making the ease at twirling and swirling around the room, a magenta cape which no less than a superhero and a rose-mailing flowery design at the bottom of the gown will make your little girl look like a prettiest kid.
The party will hold both the aspects of chilling bluish white decorations depicting Anna's lovely frozen hometown and warmth of her personality simultaneously. What a wonderful and enchanting combination it is to be able to feel the chilling breeze with so much of warmth in heart! Top it up with a beautifully decorated cake with golden and bluish edible embellishments on it. A snowflake- shaped Piñata would be so over-whelming for the kids to catch the toys and candies out of it. Altogether this will be one perfect birthday party for your child and friends.