Princess Moana
Call (347) 916-3277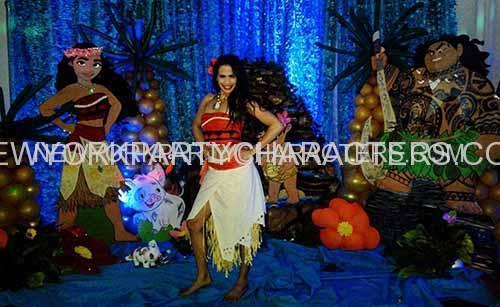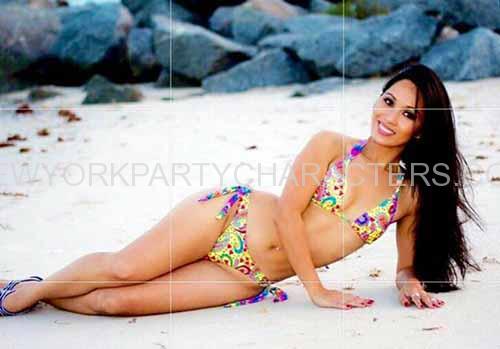 Princess Moana Character Party
Princess Moana
Once again Disney captured many hearts by introducing us to the little Polynesian tribal charm. Moana, the 16-year-old daughter of village chief Tui is chosen by the ocean to restore the heart of Te Fiti. The name 'Moana' itself means ocean in Maori and Hawaiian. Who wouldn't like to immerse in the ocean of strength and determination like Moana possesses. She overcomes whatever obstacles she meets on her adventurous journey.
Embark on an oceanic adventure! Your kid will love to have a Moana Birthday Party inspired event to celebrate such a delightful day. So brace yourself and get started with us to create a tropical adventurous trip with such a strong-willed inspirational character making her wonderful for a princess party in NYC. Feel that cool breeze swaying in the surrounding with those giant coconut trees giving you a cool shade and sailboat moving around. You can actually set up an island-like ambience to experience that archipelagic feeling lingering around.
Dress up your little girl like Moana with that beautiful authentic costume of folk art pattern, overlapping panel with sequin accents and lace trim. The scalloped hem, zigzag hem, tassels, and raised puff ink screen art sarong will make your daughter appear like a Princess of the island. She will also have fun to play a role of this unusual unique character. Beautiful sounds will drift like the ocean breeze when you will put a beaded necklace with the blue-stoned pendent to give that perfect touch up to your baby girl.
Thinking hard to turn the birthday space into an island? You can do that just with a little pinch of creativity and endeavor. There are Moana- printed balloons all over the internet which are easily available. You can set a Tropical Table to serve food and drinks. A gorgeous flowery themed table does not have to cost a fortune and it will bring an eye-catching brightness to the space. Simple things like the raffia table cloth and popping orange plates and lime green painted utensils will transform an ordinary dining table into a worn off island set up. Kids will walk into your home or backyard and think they have been teleported to a totally different place. Keep drinks cold (like Hawaiian Punch, pineapple juice or pony waters) in the earthen utensils to give that summer appearance.
The Moana Birthday Party cannot be accomplished with some tribal music on which the children will groove and twirl with fun. Put on the Moana soundtrack or some other Hawaiian music and have the kids dance. You can also arrange games like Limbo, Ocean in a Bottle, Sand Art and many more which are real fun and easy games to play at any party. Throw a party that will be very unique and your kid will never forget this exotic moment of her life.