Snow White
Call (347) 916-3277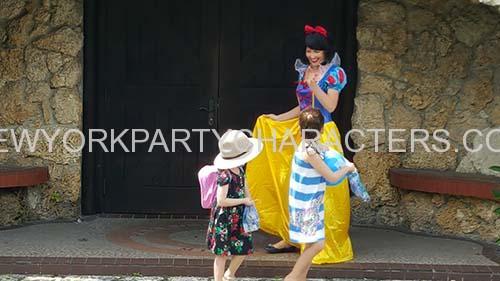 Snow White Character Party
Coined as the "Fairest one of All", Snow White's beauty lies both within her physical appearance and pure heart. With no negativity within her, Snow White is the physical embodiment of positivity and innocence. Snow White can make for a fun party because she is the sweetest and most gentle of all the Disney Princesses. She is naive, childlike, and kind,but she shows the sternness caring demeanor of a mother. Snow White's inherent kindness and purity inspires her friends, the forest animals and the Seven Dwarves, to protect her.
We all as children always wanted to gain the beauty and serenity of her. If you could not do it, you can make your little ones have that moment of life by throwing a Snow White Birthday Party.
Snow White is well known for her kindness and optimism — both of which act as her greatest strengths,as they've guided her safely through the various hardships faced throughout her life. She is charming, able to win the trust and admiration of the Prince, forest animals, and the seven dwarfs. This she managed to achieve by proving her kindness and pleasant aura which makes her a beloved figure to young girls.
To make your girl appear like a little puffy soft doll, Snow White dress will get the mission done. Her dress is brown bodice in a short white collar and white puffy sleeves. It has a long, lighter brown skirt with several patches along with the light brown sandals. To make icing on the top, put a blue headband with a bow on your little girl.
To lighten up the party and make it look exactly like the Snow White movie, you can get small figurines or statues of the seven Dwarfs which can be kept around the space. To give a perfect Snow White theme party, you can carry forward the reminiscent into the party food table as well. Ceilings can be used to hang brightly colored collection of honeycomb fans and balls, which will remind the children of the forest Snow White used to live in.
You can serve the notorious fruit depicted in the- Yes, The Apples! Apples with yummy caramel or peanut butter or any dips loved by your child. Finally we have the birthday cake! Surprise your baby girl with a Snow White Princess Cake, Seven Dwarf Cupcakes that can be frosted with a large, showing off the dwarf beards, wearing felt cone hats and googly eyes. Last but not the least; do not forget the magic mirror! They are all easily available on the internet with the same design. It will give the sense fantasy land coming to life and kids will enjoy looking at it while chanting the poetic quotes from the movie.
The Snow White Birthday Party is literally going to blow the mind of your kid as it is a complete embodiment of the fantasy land.